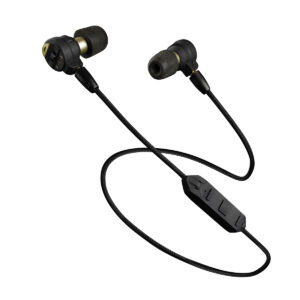 Seth Rodgers is an editor for Guns.com and will often try products and write about them. This month he was looking at in-ear hearing protection and was impressed with Pro Ears Stealth Elite.
The Stealth Elite is a unique pair of electronic hearing protection earbuds with attachable Bluetooth lanyard. Each set of Stealth Elites come with two earbuds independently powered by your standard #10 battery, a rechargeable lanyard with Bluetooth capabilities that can connect to your earbuds to play music or talk on the phone, several sizes of foam ear tips to fit with a Noise Reduction Rating (NRR) of 28, and several sizes of silicone tips designed for staying in your ear during physical activities. 
Read what Seth had to say about Pro Ears Stealth Elite at Range Gear we Love: Pro Ears Stealth Elite
Seth concluded his article with recommending Pro Ears Stealth Elite in ear hearing protection. He felt the quality along with the cost made our Stealth Elites well worth it. Thank you Seth, we agree! 
Order your Pro Ears Stealth Elite with FREE shipping by clicking on this link.